Wemos D1 mini Pro WiFi module
SKU:
MOD-1223
Weight:
7 g
no
More powerful version of Wemos D1 mini: ESP8266, 16MB flash, CP2104, 3dB ceramic antenna and U.FL socket
https://nettigo.eu/products/wemos-d1-mini-pro-wifi-module
On stock:
85
EUR 9,57
EUR 7,78 w/o VAT
How many
Discount
Price per piece
with VAT, in PLN
1
44,00
5+
5,00 %
41,80
10+
8,00 %
40,48
25+
11,00 %
39,16
Quantity discounts does not sum with other discounts
Wemos D1 mini Pro - more powerful version of D1 mini
ESP8266 is a very popular WiFi enabled microcontroller. Thanks to very attractive price and huge possibilities quickly became a very popular choice - especially in domain of home automation. However bare ESP8266 is a bit tricky for beginners. It requires stable power supply, and sophisticated programming method. Wemos D1 mini solves all those inconveniences. Basically it's very similar to NodeMCU module. The main difference is size.
Wemos D1 module it's a small board with ESP8266EX chip. On board there is also USB-UART converter (popular CP2104). Because of that, all you need to start programming is simple USB cable.
Wemos D1 provides 9 GPIO ports with PWM, I2C, SPI and 1-Wire support. Thanks to 3.3V LDO module can be powered directly from USB port via microUSB power supply.
They are 3 basic methods to use Wemos. AT commands, LUA programming language with NodeMCU firmware and simplest and our favorite Arduino IDE.
Module version v1.1.0
Specification:
Module version v1.1.0
ESP8266EX chip
Ceramic 3dB antenna
U.FL (IPX) antenna socket
Flash: 16MB
Wi-Fi in standard 802.11 b/g/n
WiFi modes: AP (Access Point), STA (Standalone), AP+STA
Supports TKIP, WEP, CRC, CCMP, WPA/WPA2, WPS
Supply voltage: 3.3V (or 5V via USB)
CPU: RISC 80MHz (supports up to 160MHz)
9 GPIO - PWM / I2C / SPI / 1-Wire
Max current on I/O pins: 12mA
Recommended current on I/O pins: 6mA
USB-UART converter - CP2104
ADC - 10-bit
16 pins in 2,54mm raster - breadboard compatible
micro USB B
Size: 34 x 25mm
LED connected to GPIO2 (D4)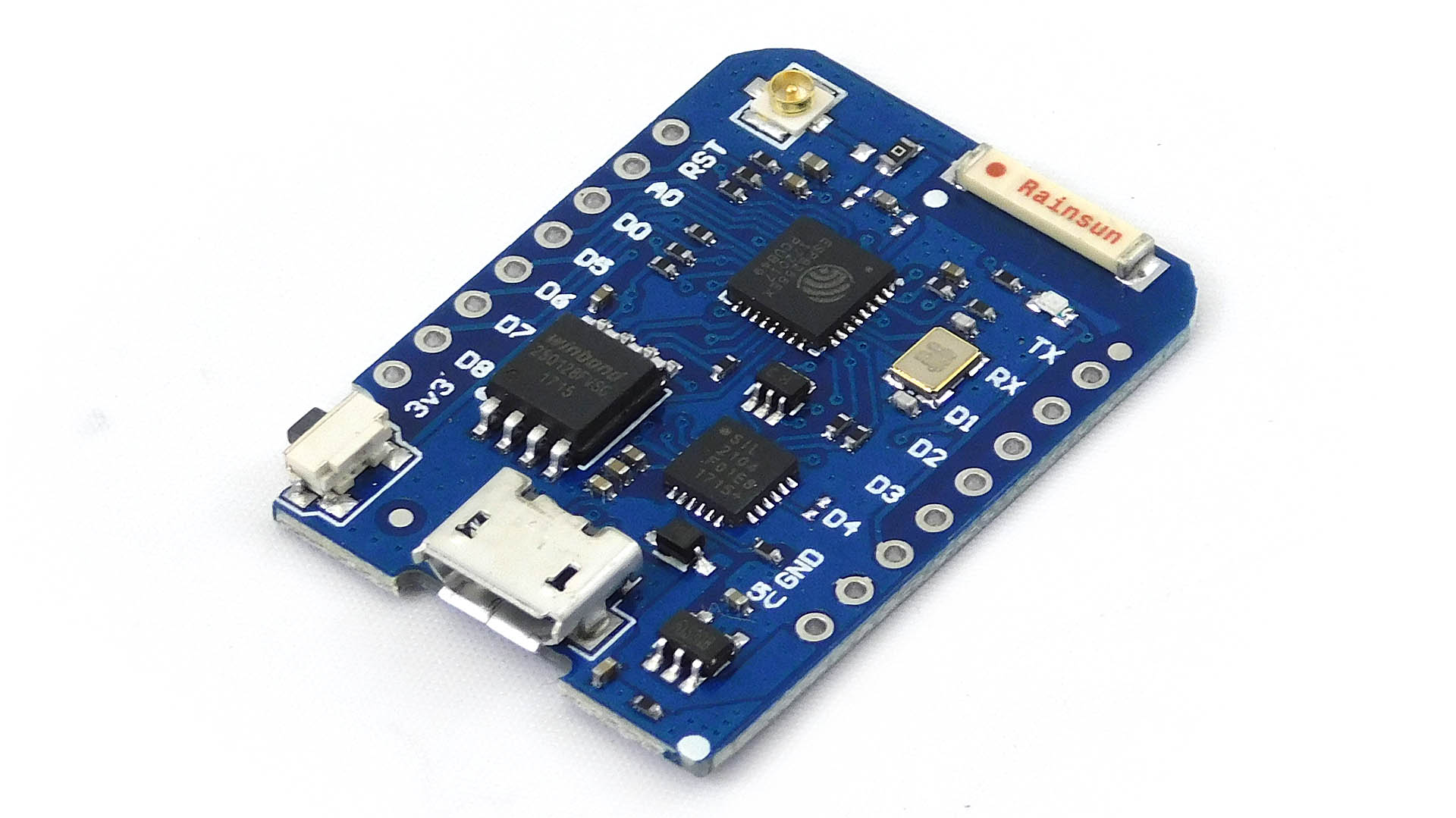 Set includes:
1 x Wemos D1 mini Pro module
2 x standard golpin 8-pin
2 x standard goldpin socket 8-pin
2 x long goldpin socket 8-pin
ESP8266 / ESP32 modules

Dev boards ESP8266 / ESP32

Akcesoria i rozszerzenia: