Teensy 4.1 ARM Cortex-M7 NXP 600MHz, Arduino IDE compatible [PJRC TEENSY41]
SKU:
TEN-1976
Weight:
13 g
no
Supplier:
Larger version of Teensy 4.0 with tons of additional GPIO, Ethernet PHY, microSD card slot and USB Host. 4x more Flash memory and 600MHz of pure power!
Chcek also Teensy 4.1 variant without Ethernet PHY
https://nettigo.eu/products/teensy-4-1-arm-cortex-m7-nxp-600mhz-arduino-ide-compatible-pjrc-teensy41
On stock: : n/a
EUR 43,26
EUR 35,17 w/o VAT
How many
Discount
Price per piece
with VAT, in PLN
1
199,00
5+
7,00 %
185,07
25+
15,00 %
169,15
Quantity discounts does not sum with other discounts
Notify me when available:
Specification:
ARM Cortex-M7 at 600 MHz
1024K RAM (512K is tightly coupled)
8192K Flash (64K reserved for recovery & EEPROM emulation)
2 USB ports, both 480 MBit/sec
1 x Ethernet PHY (10/100 Mbit DP83825)
3 CAN Bus (1 with CAN FD)
2 I2S Digital Audio
1 S/PDIF Digital Audio
1 SDIO (4 bit) native SD
3 SPI, all with 16 word FIFO
3 I2C, all with 4 byte FIFO
7 Serial, all with 4 byte FIFO
32 general purpose DMA channels
35 PWM pins
55 I/O pins:

42 digital pins, all interrrupt capable, breadboard friendly
6 pins in SD Card slot
7 pins on SMT pads

18 analog pins, 2 ADCs on chip
Cryptographic Acceleration
Random Number Generator
RTC for date/time
Programmable FlexIO
Pixel Processing Pipeline
Peripheral cross triggering
How small are Teensy boards?
Currently, the Teensy family includes 7 boards. Two of them are based on the 8-bit AVR microcontrollers, the remaining 5 boards have a modern 32-bit ARM family chips. Boards dimensions:
Teensy 2.0 - 30 x 18 mm
Teensy++ 2.0 - 50 x 18 mm
Teensy LC - 36 x 18 mm
Teensy 3.2 - 36 x 1.8 mm
Teensy 3.5 - 61 x 18 mm
Teensy 3.6 - 61 x 18 mm
Teensy 4.0 - 36 x 1.8 mm
Teensy 4.1 - 61 x 18 mm
Size of Teensy boards vs Arduino UNO R3 :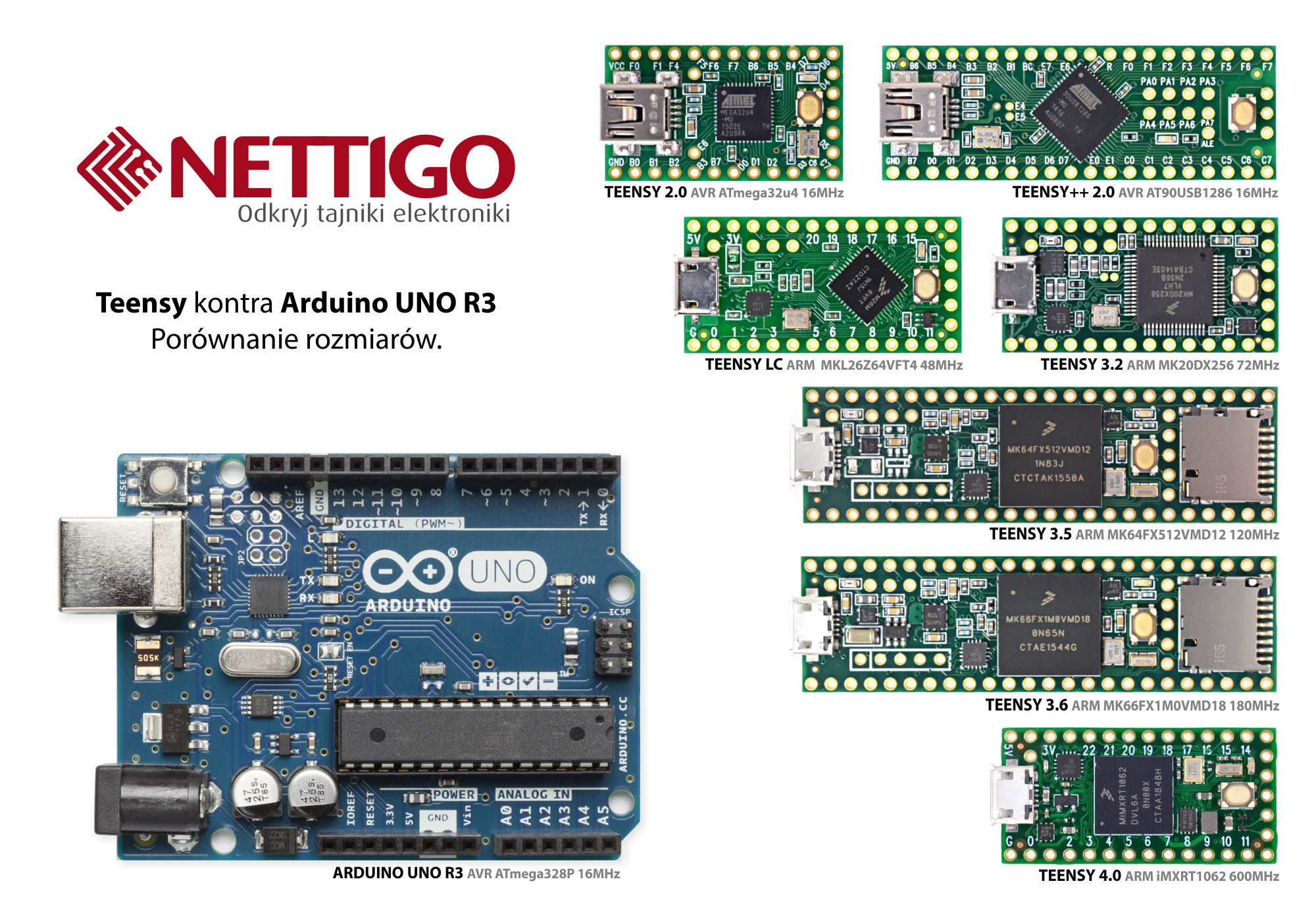 Teensy 8-bit AVR:

Teensy 32-bit ARM:

Dedykowane akcesoria:

Pasujące akcesoria: